My 5 Favourite Things About…
… AerialWorks Castle Rock, CO

Hey Circus Cats far and wide! Over the last few years I have been traveling to teach workshops around the country and I have discovered just how much I love to visit new studios. As I trek around the world teaching and performing, I want to take you with me...everywhere...in my pocket…but I can't, so I will share my journey with you here! The first studio I am writing about is AerialWorks! I visited AerialWorks to collaborate with Rebekah Leach on her upcoming book The Rope Manual: Volume 2 which actually turned into two books while I was there, but I will save that one for another time!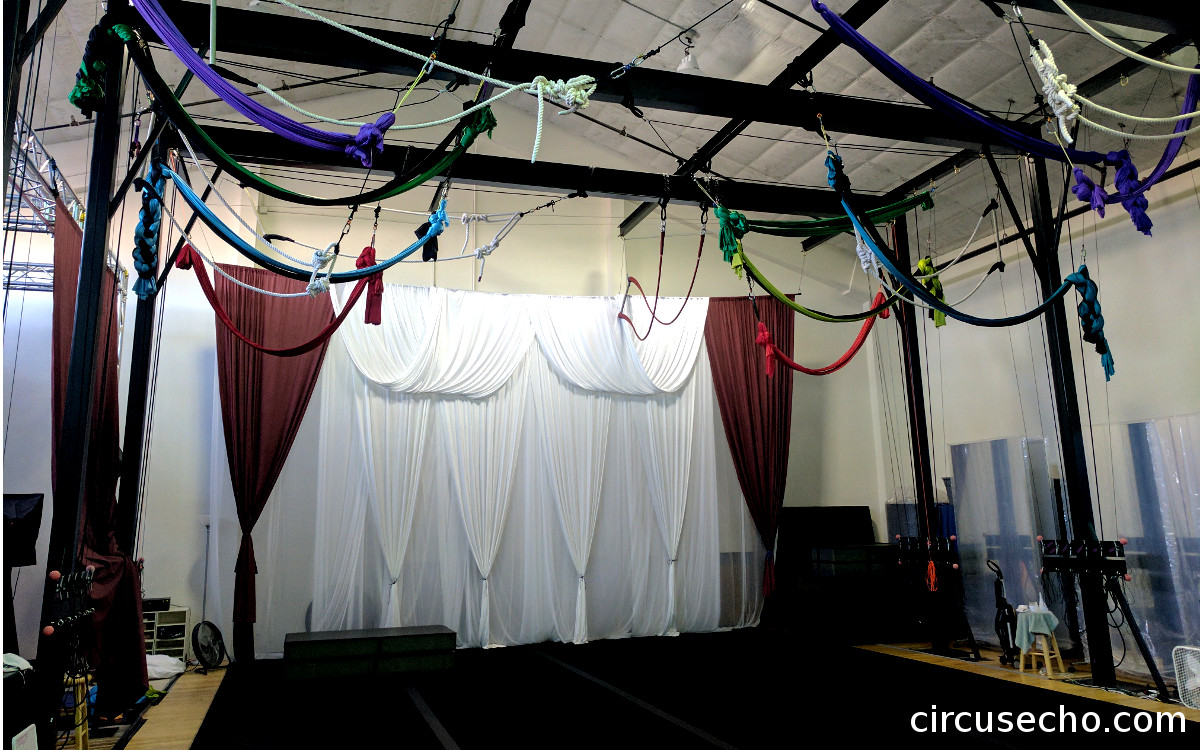 AerialWorks was established in 2016 and is located in Castle Rock, Colorado, just 30 minutes south of Denver. This beautiful studio was founded by the one and only Rebekah Leach, published author of aerial dance manuals used in studios all over the world. Tucked in the foothills of the breathtaking Colorado Rockies, this studio prides itself on offering a curriculum that allows anyone from the recreational fitness enthusiast to the future professional performer to enjoy movement in a whole new way! There are many things I love about this studio but here are my top five favourite things:
1. OBVIOUSLY Rebekah Leach!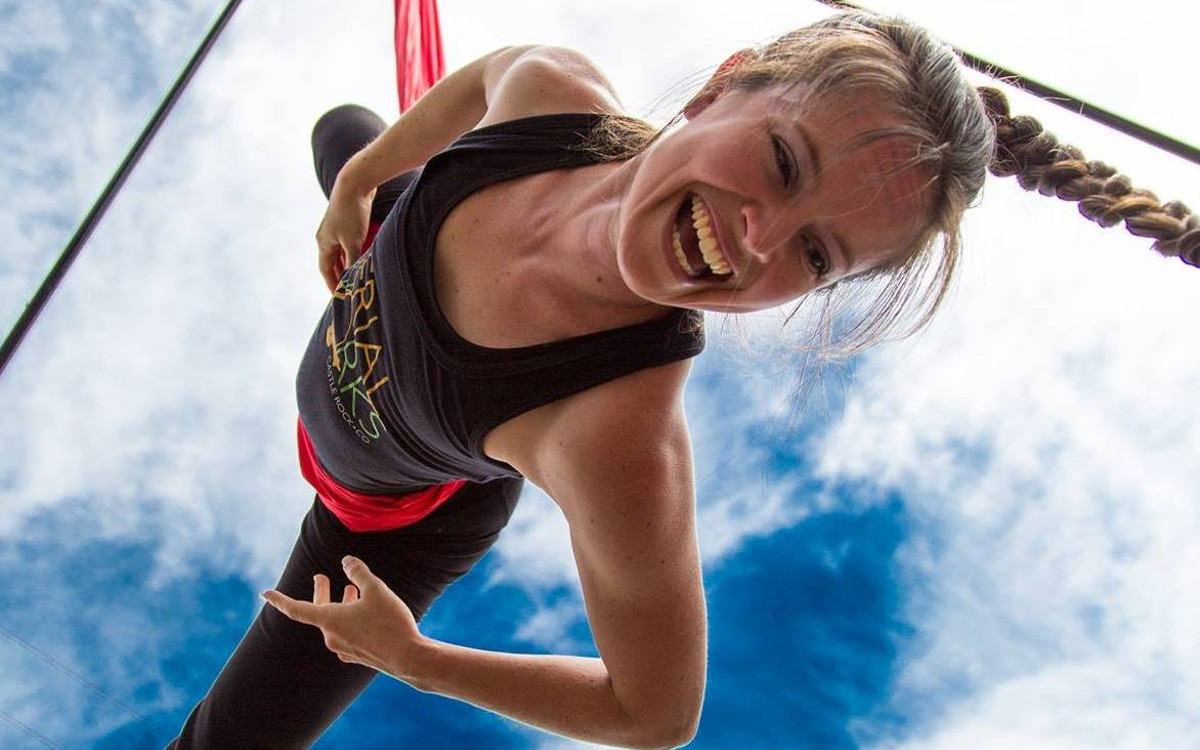 Rebekah is the founder and director of AerialWorks and she's definitely my favourite thing about visitng AerialWorks! Rebekah has over 10 years of aerial dance experience and has published 8 aerial arts manuals (Order Manuals). Not only is she an acclaimed performer and instructor, she is also an astonishing researcher and aerial theorist. She uses her unique knowledge base to classify the skills we perform in the air as well as develop methods for discovering and creating new material, presented in her manuals. If you crave a deep and thorough understanding of our craft, I cannot recommend Rebekah Leach enough.

More about Rebekah!
2. The OUT-OF-THIS-World View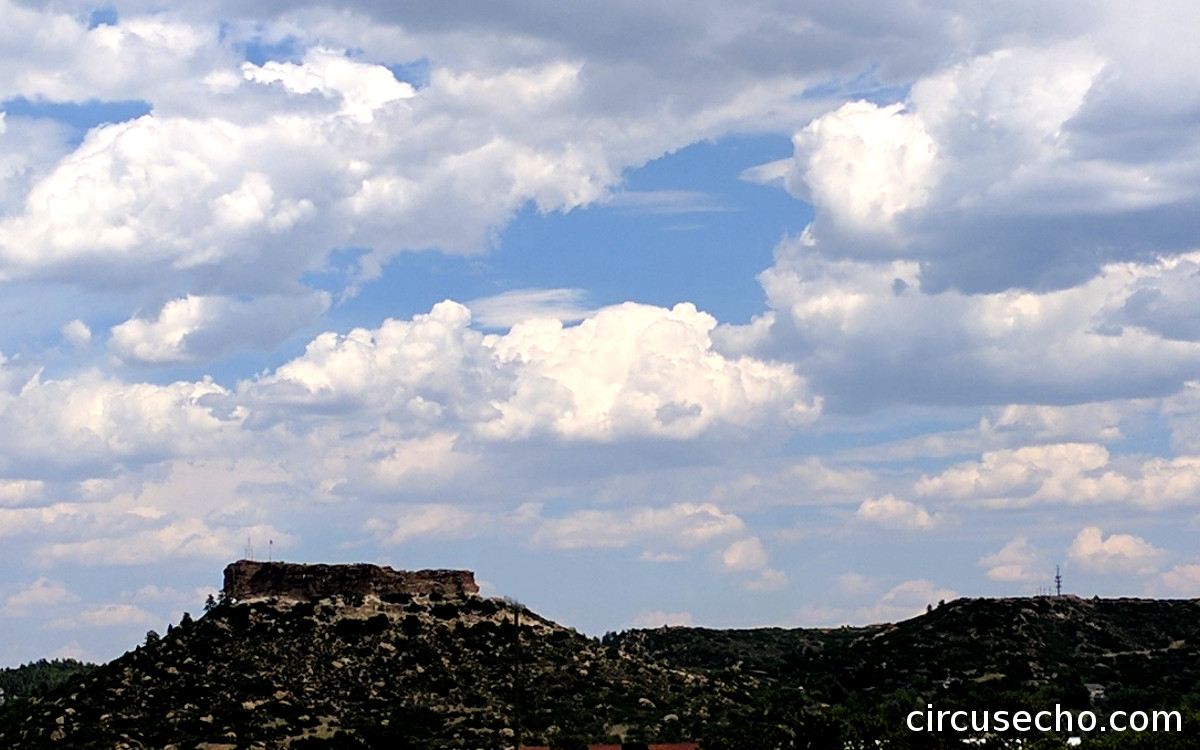 AerialWorks is nestled right in the middle of the breathtaking Rocky Mountains, halfway between Denver and Colorado Springs. When you first step outside of the studio, you are surrounded by beautiful peaks, some of which are ice-capped even in the summer, sprawling endlessly in every direction. The vastness and beauty are overwhelming. One of the most interesting rock formations in the area is a castle and tower-shaped butte near the center of town that gives Castle Rocks its name. When you aren't training at AerialWorks, you should definitely get out for a hike and see the sights!
3. Top Notch Rigging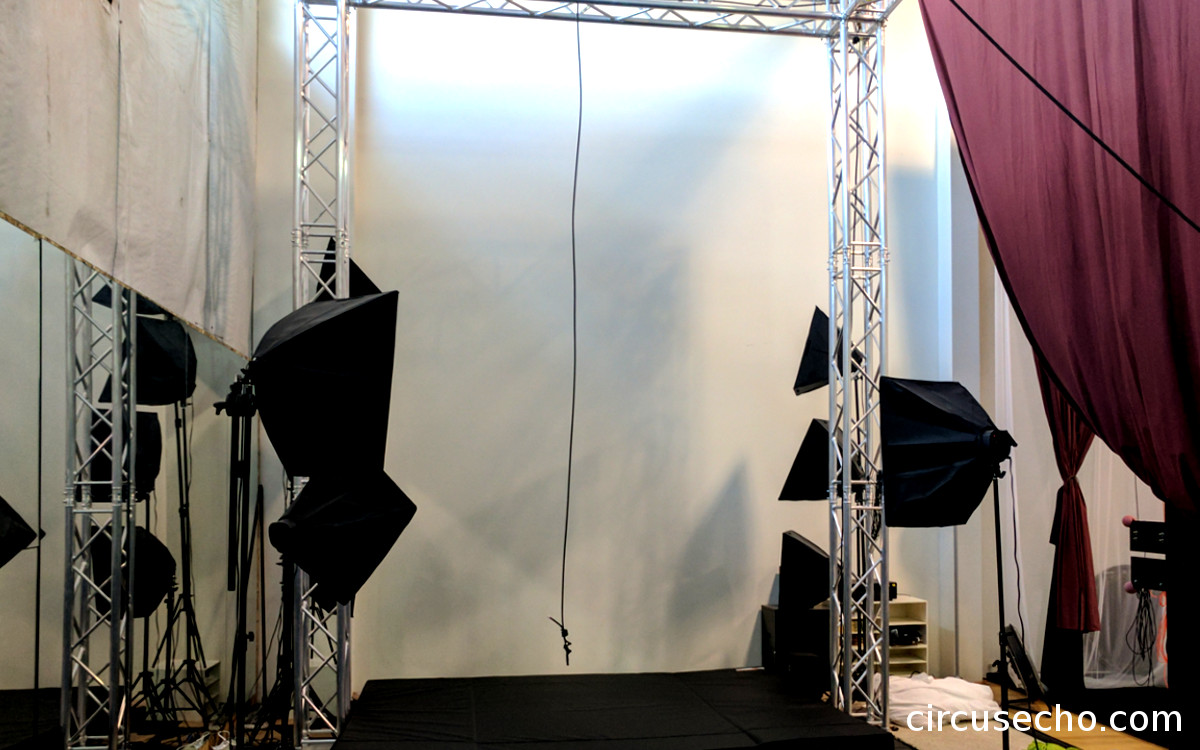 AerialWorks is over 2700 sq. ft. and features a custom beam and truss system loaded with adjustable rigging points between 15 and 20 feet high, depending on where you are in the studio. Every point is on a pulley and has its own accompanying tie line so they are adjustable, interchangeable, and they can be entirely swagged up for a dancey ground-based warm-up using the whole studio floor space.
4. The Extraordinary Julianna Hane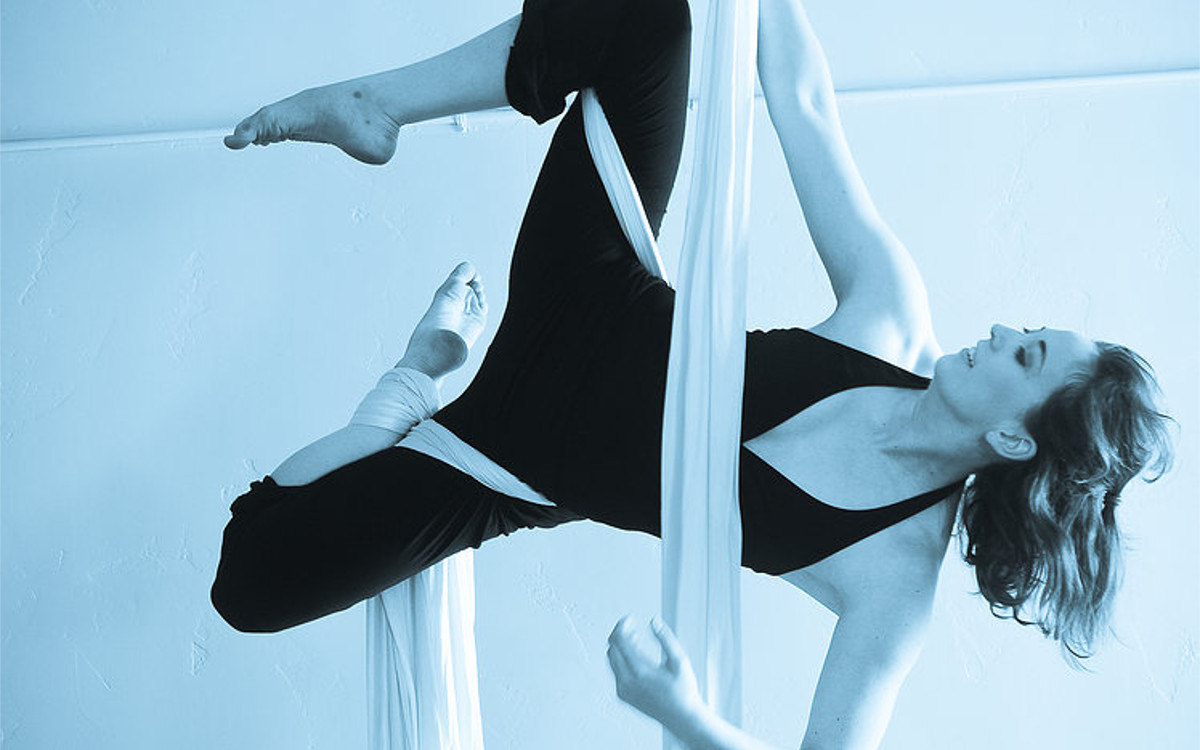 It's easy to see that Julianna Hane is dedicated to education! She is a resident instructor at AerialWorks and is the director of the Aerial Teacher Program through Born to Fly. Julianna holds a B.A. in Dance, an MFA in Modern Dance, and has completed the professional program at NECCA. She is also certified in Laban Movement, is a RYT-200 certified yoga teacher, and is currently working towards a Pilates certification. Julianna wrote the Aerial Teachers Handbook which I, myself, referenced when developing the aerial curriculum at The Space. This woman understands movement and the body so deeply that nerding out on anatomy and body mechanics with her is such a special treat!
5. Super Clean and Equipped Studio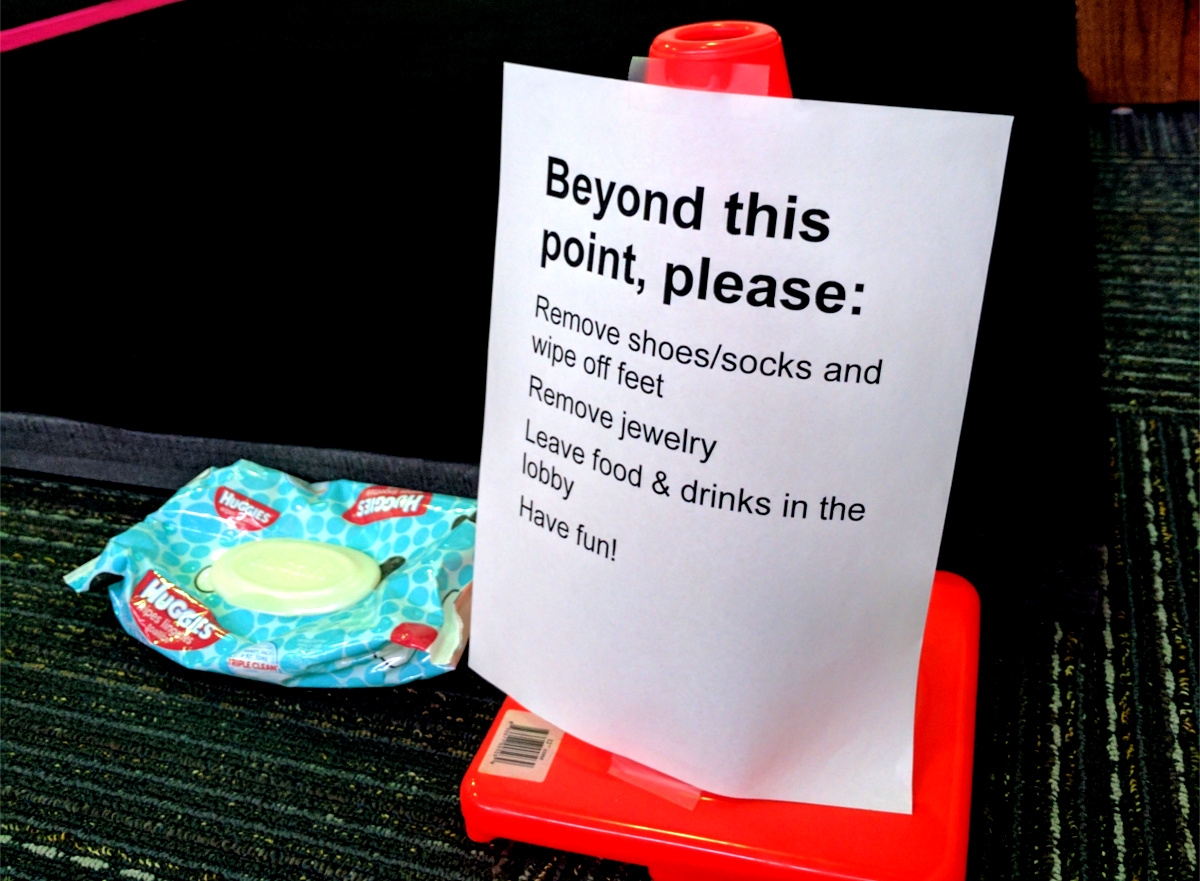 This is hands down the cleanest and most well-equipped studio I have ever been to. Not only is the studio spotless but everyone does their part to keep it so. This makes rolling on the floor to warm up and stretch so lovely and comfortable. The space is inviting with a cute lobby complete with a small aerial, dance, and anatomy library and plenty of seating for guests. Aside from obviously new and state of the art aerial equipment and mats, this studio is loaded with foam rollers, therabands, yoga mats, grip trainers, and more!
I really love this first studio I am writing about. Rebekah's years of experience, care for aerial dance, and attention to detail truly show at AerialWorks. I will definitely be coming back for a visit and if you are ever in the rockies be sure to check it out!

Click Here for Studio Info!